Learn how one Director of Quality values quality project managers.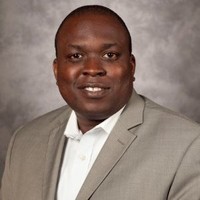 I had the pleasure of meeting Olu Jinadu on a flight from Memphis to Detroit.
I was traveling to see my aunt in the beautiful countryside of rural Vermont. I sat next to Olu and promised that I wouldn't talk during the flight.
He laughed and said he didn't mind conversation. So, I asked what work he does in Memphis and he shared that he's a Director of Quality at Thyssenkrupp.
I asked him to elaborate on what that means.
I had my ideas, of course. But it's best to not make assumptions.
And asking questions is the best way to learn.
He explained that he's an engineer who uses technology and quality tools to ensure products are delivered at the highest quality. He works with quality tools, including Six Sigma, and data analytics.
Oh, my goodness! If you've read my recent posts you know I love this topic.
So of course, we talked the entire flight. After all the recent articles I've written on quality, I was eager to dig into this conversation.
We talked about quality, the tools he uses, and the work he does.
He leads a team of quality engineers to ensure that their products meet high-quality standards. I asked if he works with project managers and he laughed and said, "Of course!"
I was eager to hear more about quality projects and get another perspective of how project managers are valuable in this work. So I settled into the flight and dug deeper into the conversation.

An Example of a Quality Project
Let's start with a good example of a quality project to get us started.
A good example of a quality project would be reducing the missing and incorrect parts on a piece of machinery. This could be machinery in any industry: sewing machines, espresso machines, tractors, forklifts, dishwashers, leaf blowers, train engines, Zambonis, and on and on.
In order to carry out this type of quality improvement project, the team would carry out the following:
analyze data
segregate out the problem
understand what components of the machines are missing
establish the baseline
address the root causes
improve the processes
The team would use technology like smart camera systems, light guide systems, and even blockchain for better traceability and identification all the way across the value chain.
By the way, value chain activities are activities needed to create and deliver goods. These are activities such as order management, engineering design, supply chain, manufacturing, all the way to getting the machines to the customer or intended end-point.
Quality projects involve using quality tools and problem-solving skills to improve quality in manufacturing and different industries.
Again, Olu stressed that he regularly works with project managers and that they're important to the success of the projects. The quality project manager ensures that the quality projects are driven forward and implemented successfully.
Quality Project Managers: Traditional Project Management in the Quality World
Just as for projects in other industries, the project manager on a quality project carries out activities to plan and execute the project. The project manager establishes the charter to introduce and describe the project, identifies the scope, and identifies the risk and deliverables.
Then she creates a timeline of deliverables.
She also works with the team to determine any roadblocks that will slow down the project.
From there, the quality project manager manages risks that could impact the project.
As the project moves forward, she continues to manage the project and communicate with stakeholders.
She also creates status reports that communicate successes, next steps, and other relevant detail as needed or requested. Some status report details that Olu mentioned were as follows: dates, milestones, action item owners, what's been completed, and who's working on which next steps.
And Olu regularly works with quality project managers in these types of projects.
Just as for projects in other industries, the project manager on a quality project carries out activities to plan and execute the project.
Important Traits for Great Project Managers
I asked Olu what he considers to be important traits for a great quality project manager for this type of work. Especially since he's interacting with them from a director level. He listed quite a few things that overlap with my list from 10 Essential Qualities of Great Project Managers.
These are the qualities Olu outlined as top traits that give him the confidence to trust a project manager with leading a quality project:
1.Pays attention to detail.
Quality is about focusing on the details and ensuring that everything is covered. You need to have a great understanding of what the project entails and then plan for and manage all the components.
2. Asks the right questions.
Asking questions teases out all the information needed for planning and executing. Asking team members questions like "What are we missing?" or "who else is impacted?" helps ensure that everyone who needs to be included is involved in the project and nothing is missed.
3. Plays devils' advocate to challenge the team.
A great quality project manager has the ability to challenge the engineers who are working on the project.
Even if the project manager is not an engineer, she can still help the engineers and other team members ensure they're really resolving the problem and implementing the right solution that will stand the test of time.
This somewhat relates to number 2 above, in that you'll likely need to ask challenging questions in order to dig deeper into problems in order to solve them. Part of leading quality projects is knowing which questions to ask, and not being afraid to ask them.
Related article: Productive Conflict at Work: Simple Guidelines to Keep it Positive
4. Has a clear understanding of the deliverables.
In addition to understanding project schedules and timelines, a great project manager for a quality improvement project knows what is being delivered. This means getting clear on the project goals, understanding what metrics the quality improvements will be measured by, getting a good baseline, and knowing what success means.
The project manager on a quality project must have a clear understanding of the project goals, which metrics to use, and knowing what success means.
5. Identifies and manages risk.
A great project manager must be able to identify risks that can derail or destroy her project. Work with her team and using a Project Risk Matrix is a great way to do this. But that's not enough. Once the team has pulled this information together, a great project manager continues to manage for risk though the life of the project.
6. Stays on top of the project.
Once the project manager works with the team to identify the problem to be solved, develops the plan to solve it, and identifies risks, she works continuously to drive the project forward. She works closely with the team to ensure they have what they need to succeed, remove roadblocks, and keep things moving forward as planned.
7. Escalates issues.
Great project managers recognize that sometimes issues need to be escalated. And they're not afraid to do it. If problems can't be resolved, a great project manager will escalate to get resolution.
Related article: 7 Strategies to Follow When Escalating Project Risk
8. Is Transparent and open with leadership on issues.
Leaders want – and need – to be able to trust project leaders. If the project is behind schedule, a great project manager won't be afraid to be open with stakeholders and project sponsors.
9. Builds rapport with and works closely with the team.
Building rapport, working closely with the team, and understanding what's going on with the project is valuable not only for the project manager but for everyone. This allows the project manager to be able to better understand the project.
She may even be able to troubleshoot issues with the team if needed.
Again, even if she's not an engineer or developer, having an understanding of the project, the technology, and the team will give her the ability to help the team think through problems. And she'll better be able to help the team resolve problems.
This means that a great project manager doesn't simply direct the team, but works closely with them to understand what's needed, understand different personalities and working styles, strengths, and how to help them succeed.
A great project manager doesn't simply direct the team, but works closely with them to help them succeed.
10. Goes above and beyond where possible for project success.
A great project manager doesn't just look at the schedule, the risks, and do the bare minimum to get by. She goes beyond this to look for ways to really help the project and team succeed.
Olu illustrated this point with a story about an amazing project manager he still remembers well to this day.
He told me about a project manager he worked with in the past who made such a great impression on not only Olu but everyone in the organization.. He was not an engineer, but he had a deep understanding of the project needs and was able to ask the right questions to help them understand challenges and work toward solutions.
He talked with people at every level: from individual contributor level all the way to the executive level, to get a full picture of the project.
He talked to customers, VPs, floor-level engineers, design and performance engineers, fields engineers, finance, marketing, everyone.
This gave him a better perspective to help the team find solutions.
And if he didn't feel like the project management tools were good enough, he would improve them. He used audit results to improve the project function. He was a stellar project manager and was so loved by the team that they thought of him as one of them.
11.Continues to learn.
This is not Olu's item, but one I feel compelled to add. A great project manager continues to learn. Great project managers need many skillsets: project management, emotional intelligence, communication, and keeping up with new technologies, among others. This is true no matter if you're working in quality project management or any other focus area. It's important to maintain a growth mindset and continue to learn. There are many paths one can take in a project management career, and continuing to learn and grow keeps it interesting, challenging, and rewarding for many years.
Quality Project Manager Career Outlook
Project management skills are in high demand in many areas.
And last year PMI released findings that project management jobs will continue to grow through 2027. And one of the sectors mentioned was manufacturing, which certainly uses quality project managers.
Checking Glassdoor just now I see that the average base pay for a Quality Project Manager is $85,245/yr.
If this sounds intriguing to you, it may be a path you'd like to pursue.
Summary
Quality project managers play an important role in quality improvement projects. They work closely with the team and ensure the project is successful.
Traits that make project managers successful in other domains can be important to quality project managers, too.
And there are clear things you can do to stand out among others in the field. It may be a focus area you hadn't yet considered.
Project management offers so many options. That's yet another reason I think it's the perfect career for many.