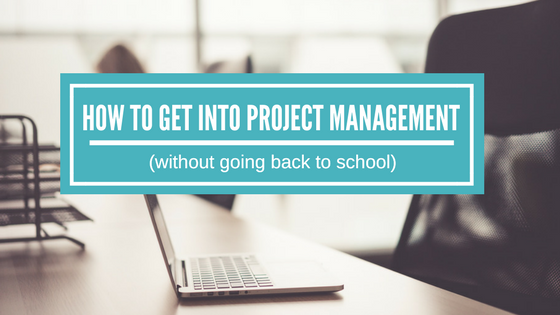 If you want to know how to get into project management fast, this practical advice doesn't involve certifications or going back to school.
I've been asked a lot, "How can I get into project management?"
People ask if they should start by getting certificates or going back to school.
Yes, certifications and college degrees are valuable. But they're not required for getting real project management experience to move you along that career path.
So I usually give the same answer to the question "How can I get into project management?" And it usually doesn't start with either of those options. Instead, I suggest the following…
How to Get Into Project Management Fast
If you want to know the fastest way to get into project management – this is it…
Start where you are – at your current job.
This is what I often tell people who want to become a project manager.
I usually tell people that to get into project management, it's worth it to start looking in the company you're already working for. You might be surprised at the chances for moving into this role. Or at least being given a supporting role on a project. Either of these would give you knowledge and experience right where you are.
I got my first project management experience in the Peace Corps, in a beautiful small town in Chile. It was NOT a project management position. But I organized projects, did a gaps analysis of community needs and resources, planned meetings, and dealt with small budgets.
(And I learned Spanish and trekked the Patagonia while there, too.)
But when I filled in my Peace Corps application, I never dreamed it was the start of my project management career.
Follow these steps to get into project management right now….
Assess the Options of Your Current Employer
Depending on your current work situation, you may be able to take on project support roles. These could provide you with great project experience.
You might even be able to lead a small project right away.
Whether you work in a huge corporation or a small startup, there could be chances to lead project efforts. It doesn't matter if the project is small. You'll get practical, hands-on experience even with a small project.
Talk with your boss about your goals to get into project management.
Let your immediate boss know that you'd like to explore project management as a career path. Ask if there are ways you can start taking on some project support roles to develop those skills. She'll likely support you in that pursuit.
If you have a great work ethic, and are a supportive team player who's valuable to the company, she'll want to keep you there. She'll also understand and expect that you'd want to grow. Your request likely won't come as a surprise to her.
Find Ways to Get Project Management Experience
These are several ways you could move into project management in your current company.
Move to an open Project Management position in the company. There may be a position open in the company that you could move into. Your boss might have insight into what other managers need or roles that are available.

Change your current focus and job title. Your boss may be able to shift the focus of your work to project management.

Take on project support tasks. If your employer doesn't have a formal position you can transition into, see if there are project support activities you can take on in any current work there
Check this list of Project Manager Roles and Responsibilities to see where you might be able to support any current efforts in your company. You'd at least be able to start acquiring those valuable PM skills that will help you on the career path down the road.
Also check this list of 10 Essential Qualities of Great Project Managers. Identify where you're already strong, and where you may want to focus on improvement.
And if your boss suggests starting with a project coordinator role, consider it a great way to get into project management. This article explains how Project Coordinator job responsibilities prepare you as a project manager.
Focus on how you can add value
When you talk with your boss, don't make it all about you. Consider also how you can to provide value to the company. Your boss will appreciate that you've considered this perspective as well.
Don't neglect your other duties
If your boss assists you in taking a supporting role in a current project, or gives you a small project to lead, make sure to stay on top of any other duties you may still have. You don't want to let her – or your team – down.
Learn the Basics of Project Management
If you've been successful and you're now helping run projects, you need to learn more about project management.
This article will help you get the basics down fast:
Project Management Basics: the Accidental Project Manager – this easy guide gives you the project management basics to get you started fast.
And when you're ready to look for your first – or NEXT – Project Management job, this course tells you exactly how to get a project manager job – by giving you a step-by-step ROADMAP that the top candidates follow: