I've been writing a lot lately about problem-solving skills. These are great ways to grow your skill set, and a perfect skill to make you more valuable in the workplace.
Problems are going to arise no matter where you are in your career.
You may not like it, but it helps to see the positive side of these experiences.
Why You Should Welcome Challenges
Challenges are opportunities to grow.
Challenges give you the chance to be a better version of you.
Don't think everybody else always has all the answers. Don't let imposter syndrome stop you in your tracks.
No great leader became that way overnight. No great leader got there by coasting. Great leaders developed through challenges and opportunities to stretch and learn and grow.
You'll face challenges along the way and you'll learn from each one.
When you need a bit of extra encouragement, turn to these quotes for inspiration. They'll remind you that you're on the path to growth and learning.
If something hard can't kill you, it can strengthen you and teach you and help you become the person others admire for your strength and wisdom.
Don't shy away from challenges. Do the hard thing. And then do it again. And with time and experience, it will no longer be hard.
And when you're given the chance to take on a big challenge, consider all the resources you have access too.
When faced with a tough challenge, draw upon your resources, whether they be intellect, strength, courage, or friends and peers. You have assets that can get you through challenges more successfully than you might at first think.
And don't be surprised that you'll continue to face challenges. Even when you overcome and learn from one, another one will show up.
As you take on challenges and grow, you become worthy of bigger challenges. Welcome them as a sign of your progress. It's the path to your greatness.

And if you need a bit of inspiration during these times, the following quotes are extremely helpful reminders that you're likely on the right path.
Quotes to Inspire You During Challenging Times
1. "It is a rough road that leads to the heights of greatness."

– Lucius Annaeus Seneca
---
2. "Discomfort may be a doorway; don't run from it."


– Joseph Deitch, Elevate: An Essential Guide to Life
---
3. "It's not because things are difficult that we dare not venture. It's because we dare not venture that things are difficult."

– Lucius Annaeus Seneca
---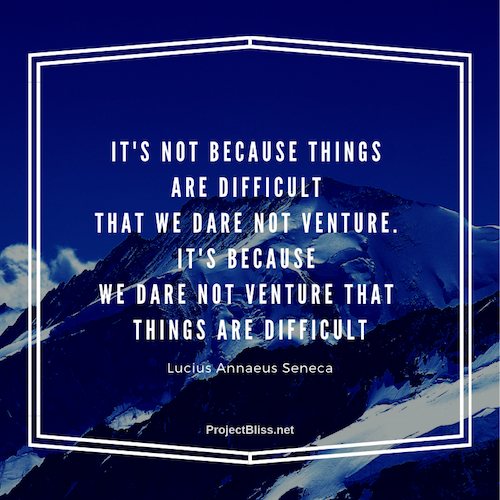 ---
4. "Man is not worried by real problems so much as his anxieties about real problems."

– Epictetus
---
5. "Just as nature takes every obstacle, every impediment, and works around it—turns it to its purposes, incorporates it into itself—so, too, a rational being can turn each setback into raw material and use it to achieve its goal."

– Marcus Aurelius
---
6. "It's okay to be discouraged. It's not okay to quit."

– Ryan Holiday, The Obstacle Is the Way
---
7. "No man is more unhappy than he who never faces adversity. For he is not permitted to prove himself."

– Seneca
---
8. "Look well into thyself; there is a source of strength which will always spring up if thou wilt always look."

– Marcus Aurelius, Meditations
---
9. "There are no secrets to success. It is the result of preparation, hard work, and learning from failure."

– Colin Powell
---
10. "A setback has often cleared the way for more prosperity. Many things have fallen only to rise to more exhalted heights."

– Seneca, Letters from a Stoic
---
11. "You learn more from failure than from success. Don't let it stop you. Failure builds character."

– Unknown
---
12. "If you're going through hell, keep going."

– Winston Churchill
---
13. "Character cannot be developed in ease and quiet. Only through experience of trial and suffering can the soul be strengthened, ambition inspired, and success achieved."

– Helen Keller
---
14. "It has been my philosophy of life that difficulties vanish when faced boldly."

– Isaac Asimov
---
15. "Life is about accepting the challenges along the way, choosing to keep moving forward, and savoring the journey."

– Roy T. Bennett, The Light in the Heart
---
16. "The roughest roads often lead to the top."

– Christina Aguilera
---
17. "The difference between who you are and who you want to be is what you do."

– Unknown
---
18. "I've missed more than 9,000 shots in my career. I've lost almost 300 games. 26 times I've been trusted to take the game winning shot and missed. I've failed over and over and over again in my life and that is why I succeed."

– Michael Jordan
---
19. "All progress takes place outside the comfort zone."

– Michael John Bobak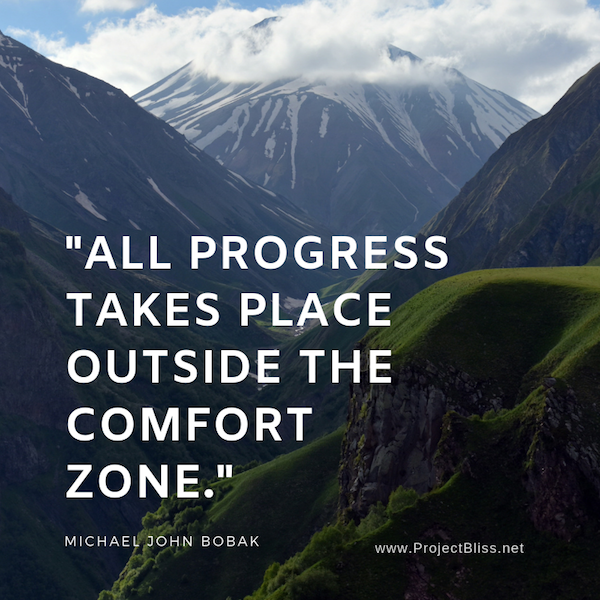 ---
20. "Comfort is your biggest trap and coming out of comfort zone your biggest challenge."

– Manoj Arora, From the Rat Race to Financial Freedom
---
21. "Many of life's failures are people who did not realize how close they were to success when they gave up."

– Thomas Alva Edison

---
22. "When things do not go your way, remember that every challenge — every adversity — contains within it the seeds of opportunity and growth."

– Roy T. Bennett
---
23. "We generate fears while we sit. We overcome them by action."

– Dr. Henry Link
---
24. "Successful people do what unsuccessful people are not willing to do. Don't wish it were easier; wish you were better."

– Jim Rohn
---
25. "Don't blame your challenge, rather get up and see it as a bridge to your success."



– Bruce Mbanzabugabo
---
Save this list and share it
Hopefully, there's a quote – or several – here that inspire you. Print this list for when you need that motivation.
And even better – share it with a friend or your team. Then you'll become a source of inspiration and support for others!