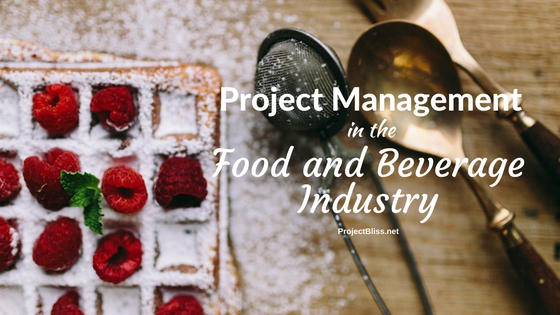 When people think of project management careers, IT and construction are usually the first industries that come to mind. But these are not the only options. In today's post, I interview Tim Flohr, PMP, a 25-year veteran of the food and beverage industry. He shares how he uses project management skills heavily, and the information might surprise you. Read on to learn about project management in the restaurant industry, where it usually doesn't come to mind when thinking of project management careers.
Tim works for Guckenheimer, a food and beverage company that provides high-end corporate dining services to more than 400 corporate cafes across America. Tim recently relocated to Memphis, TN as the General Manager for Guckenheimer, where he oversees all of the corporate cafes, executive dining, and special events for the Nike Distribution Center in Memphis.
When we initially talked, I was surprised when Tim shared that there's a great deal of project management work in the food and beverage industry. Tim explained "Managers don't realize that they do project management work a large majority of the time. Everyone seems to think that Project Managers are just for IT or the construction industry. Little do they realize that, in addition to operations, they are actually managing projects each and every day."
Read on for information on how project management practices are applied in the food and beverage industry in my interview with Tim Flohr. Tim was gracious enough to write most of this article via his thorough answers to my many questions.
Project Management in the Food and Beverage Industry
Leigh: Many people wouldn't think of the food and beverage industry as one where project managers are found. What types of projects are done in this industry?
Tim: Most of the projects performed in the food and beverage industry are meant to meet a specific business objective falling within the quality or continuous improvement realm. Many large restaurant companies have Project Managers who oversee construction and IT projects, while some employ Operations Project Managers whose projects mainly focus on implementing Lean Six Sigma projects that focus on implementing and ensuring efficient operating procedures.          
There are five main principles, or laws, of Lean Six Sigma:         
Law of the market (customer focus)
Law of flexibility (process is maneuverable)
Law of focus (focus on the problem at hand and avoid distractions)
Law of velocity (complexity of services can lead to poor quality or slower speeds)
Law of complexity (keep it simple)
Lean Six Sigma seems very complex, but almost every successful food and beverage professional employs these five principles every day. I have had pretty amazing results in my career by implementing Lean Six Sigma in corporate dining accounts, so I have accumulated plenty of real-world examples.
Put simply, it is finding issues that affect the customers, analyzing the issues to find the root cause, and implementing solutions (where most Project Management takes place) that are designed to make the processes (and customer satisfaction) better. 
Leigh: What other types of work do project managers do in the F&B industry?
Tim: While some other examples of Project Management in our industry are construction (new restaurant construction, remodels/refreshes) and IT based (new point of sale systems, launching mobile strategies, or control systems geared towards labor or food/beverage efficiencies), many times they are new corporate rollouts that fall into key strategic initiatives (new menu or concept implementation, strategic branding, or quality management initiatives). 
Leigh: What advice would you have for people early in their careers who want to move into project management and may not have considered the F&B industry?                
Tim: My advice to any new manager in our industry (or any other industry) is to get involved in as many projects as possible. Though we are first and foremost operators whose main objective is to provide outstanding products and services, in order to run the best operations possible we need to continuously engage in projects (utilizing Project Management tools and techniques) designed to improve our business (utilizing Lean Six Sigma principles).
Leigh: When you say "utilizing Project Management tools and techniques" I wanted to level-set that we have the same ideas in mind: scope management, project planning, risk management, etc. – right?
Tim: With regards to "utilizing Project Management tools and techniques":
The majority of F&B operations choose to operate under a functional organizational structure, where their main focus is on executing the core functions of their business. However, Project Management still plays a critical role in the success of the business.    
Without a Project Manager who is accountable for the execution of these projects, the responsibility will many times fall on the unit manager or General Manager of each operation. In larger organizations that employ Project Managers, unfortunately in many instances there is a disconnect between Project Managers who have formalized training and the unit managers who are an integral part of the project's success. This skill gap will many times lead to projects that fail to meet the triple constraints of scope, time and cost.
Whether in a functional or a matrix organizational structure, there are many occasions where there is a leadership vacuum when there isn't a designated Project Manager at the unit level. This is where someone can take the initiative and take on the responsibility of completing a project. I did this throughout my entire career and this is how I stood out to my employers. Needless to say, there were many bumps in the road due to the fact that I had no formal PM training. If I knew then what I know now….
I came to the point where I was taking on a lot of projects and pulled in many different directions, so I decided to take Project Management training in order to further my career. The main reason I wanted to take formal PM training was because there were often times a huge disconnect between upper management and/or Project Managers and those at the unit level. In order to increase the chance of project success, I wanted to "bridge the gap" between the two worlds that, at times, seemed light years apart. Most strategic initiatives and projects are great in theory, but they fail when rolling them out to the unit level. Keeping the most important factor in mind (excellent guest experience) is what everyone's main objective is (or should be), but if projects aren't rolled out properly and there aren't metrics in place to measure guest satisfaction and efficiencies, then it greatly increases risk and has the potential of wasting both time and resources 
The Project Management tools and techniques that are used with every project include everything that is explained in the PMBOK (Initiate, Plan, Executing, Monitoring and Controlling, and Closing), PERT and CPM. While the use of technology does indeed support a Project Manager throughout each phase of the project, a thorough understanding of Project Management is critical as well. With a solid understanding of Project Management, technology is best used to help the PM in their most critical function – which is to communicate to upward, lateral, and downward channels throughout the project's lifecycle. 
A good percentage of Project Management in the F&B industry is executed at the unit level, and there usually isn't someone there with a specific job title that will say "Project Manager". However, projects are performed each and every day by most management at the unit level within an organization. As we all know in this industry – titles mean very little. For example, even though I don't have the title of "Chef", I still need to cook a hamburger sometimes. However, I still need to know the basic principles of cooking and the internal temperature that I need to cook the hamburger. I don't have to go to the Culinary Institute of America to learn how to cook a hamburger, but I may want to consider it if I want to open an upscale burger restaurant (or a chain of them) one day. The same applies to Project Management. You don't need to be a "Project Manager" to take on a project, but if you want to get better at executing successful projects or enterprise-wide initiatives, there will be additional training required. One of the biggest issues that I've faced is having Project Managers or senior leadership who want to launch a project or process improvement without thoroughly taking the triple constraints of time, cost, and scope into account. Going back to my previous example, they may try to create a different or better way to cook a hamburger, but they've never actually been on a grill (not including holiday cookouts…). If the project doesn't have a strong business case or isn't communicated properly, it leads to confusion and issues with execution at the most important level – the person cooking the hamburger for the guest. Project Management training can help alleviate this and ensure successful projects by focusing on the "3 C's" of Project Management – Communication, Change Management, and Customer Satisfaction.
Leigh: I hear people say they want to get into project management but they may not want to go into technology.  In IT, there are certain job titles to look to for good entry points, such as Business Analyst and Project Coordinator.
If someone is drawn to the food and beverage industry, are there certain job titles that they'd look for? Perhaps I should put that line of thinking aside completely and just focus on the fact that people who work in your industry also use project management in very valuable ways.
Tim: If they were to work solely in Project Management in this industry, most of the job titles would be "Project Manager", "Process Project Managers" or "Operations Project Managers". In many instances, the applicants for these positions are from other industries. 
There is a huge opportunity to train F&B professionals in Project Management because there can be a ceiling with regards to career growth. That's why I pursued Project Management years ago. It provided me an opportunity to expand on my deep knowledge of the F&B industry so that I could continue to grow professionally. Generally food and beverage operations have no alternative but to bring in Project Managers with little or no expertise in F&B and this is what makes executing projects so difficult. If there are PMs who actually are SMEs in our industry (which there aren't many of), it creates phenomenal opportunities for them to grow either in a large corporate setting or as an independent consultant.
For years I wrestled with the idea of what I should do in the future and whether I should use a PMP or MBA to launch a second career in another industry. However, I decided to capitalize on my strengths in the industry that I have expertise in and try to find way to incorporate my other areas of study (Project Management, Six Sigma, and Business Analytics) to create my own career path. 
There are a lot of smart professionals in my career who get burned out from operations and end up leaving the industry. Like I said earlier, everyone is working on a project every single day at work, regardless of whether or not they have the title. If they are provided with knowledge and tools that can help them to manage these projects more efficiently, then it can afford them more time to focus on their most important role – running their operations. Not every project needs to include detailed and complex Gantt charts, but they all need to follow the basic principles of Project Management and have clearly established baselines with regards to schedule, cost, and scope.
Leigh: This is such great information. And your enthusiasm for the field is evident. You'll certainly be successful in helping others understand how project management skills are valuable in the food and beverage industry.
If people want to pursue this industry as a long-term profession, what positions or job titles would professionals look for if they were doing a job search?
Tim: They can really start with in any position within the industry, but there's no such thing as a straight career path to becoming a Project Manager in the F&B industry. They could either start in an operations role with large corporations like Guckenheimer, Aramark, Sodexo, or Compass or at any independent or corporate restaurant. One of the most important traits to have is a growth mindset where they can study principles associated with Continuous Process Improvement/Lean Six Sigma, Project Management, and Agile Management. I took the path less traveled, and at times it was a very difficult one, so I'd like to help make it easier for people in the future. Hopefully sharing my experiences will help others to see the amazing opportunities that exist. I will soon begin teaching courses at the Kemmons Wilson School of Hospitality and Resort Management at the University of Memphis, and my hope is to develop a special topics course in Project Management for the F&B Industry in the future.  I also just created a LinkedIn group "Project Management For The Food & Beverage Industry", which will focus exclusively on Project Management specific to our industry.
If you'd like to contact Tim, you can reach him via his email address at Timothy.flohr@nike.com
If you are considering adopting more project management practices and want to know more about the value that project management adds, check out my post on 15 Benefits of Project Management.
If you know of other fields where project management is used regularly, but little known, share in the comments! It would be great for others to know the many options.