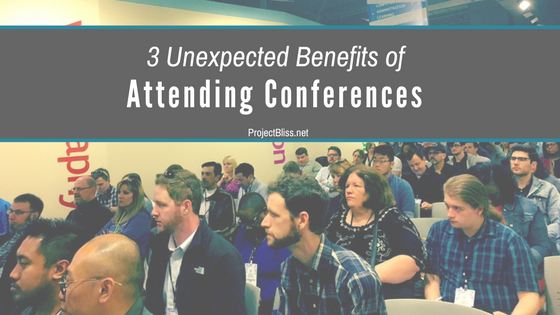 You may think that the only benefits of attending conferences are to gain new knowledge on an area specific to your job title and earning professional certification credits.
But there are other benefits of attending conferences that you may not have considered.
Or maybe your gut reaction is that conferences are a waste of time.
But I'm here to convince you otherwise.
Do you feel stagnant in your career? Do you lack inspiration or motivation?
Perhaps you could benefit from exposure to new people and new ideas.
Conferences are an excellent way to do this!
Maybe your initial reaction is that conferences are either intimidating, or expensive, or don't have anything new to offer.
I'm going to challenge those assumptions.
Conferences can be a great way to gain inspiration, learn something new, and connect with others.
You: But conferences are boring.
Me: It's up to you what you get out of it. There are benefits you may not have considered.
You: But I can't AFFORD to go to a conference. My work will never pay for it.
Me: You just might be surprised.
Even if your company doesn't pay for travel and other conference expenses, you may be surprised to find great low-cost conferences close to home, offering professional benefits.
The Conference Doesn't have to be Far Away
This weekend I attended Craft Content Nashville (CCN17).
It's a conference for digital media and content creators. They state on their website "We explore strategies and techniques used to share stories and engaging content through words, pictures, audio, video and beyond."
In addition to my blog, I occasionally need "to share stories and engaging content" in my role as a project manager at my day job, too. I hoped that the conference would benefit multiple areas of my life.
I'd been once in the past and enjoyed it, and was eager to attend again. Since I live in Memphis, and the event is on the weekend, attending a conference 3 hours away in Nashville wasn't a big hurdle. It's a low-cost event packed with great presentations. It's a true bargain.
The conference doesn't have to be specifically focused on Project Management
In the past, I'd always targeted attending conferences focused on project management, since that's the career path I worked in. I've always enjoyed attending these conferences and learning more about the field – and getting the required PDUs. I even helped put on our local PMI chapter's Professional Development Day for several years. However, if a conference isn't related to your job, your employer likely won't cover the costs. For this reason, until several years ago, I'd dismissed the idea of attending anything that wasn't directly related to my job role.
But in recent years I've started attending conferences not specifically targeted to project management, and have gotten great value from them.
There are benefits to attending conferences that may not be targeted specifically to your job title.
If you're in a situation where you can't expense a large conference, I recommend finding a way to attend a smaller, more accessible one to get some of the same benefits. Here are three great benefits to attending conferences:
Three Unexpected Benefits of Attending Conferences
1. Meeting great people.
People who attend conferences are interested in growing and learning. They're going out of their way to be in a place with like-minded people. They're open to networking, sharing ideas, and meeting others. Even if you're not developing a deep relationship with someone you're sitting next to in a conference session, you can turn to them and engage in a targeted discussion very easily. One great benefit of attending conferences is that you meet people who are doing a variety of interesting things, and everyone is eager and enthusiastic to tell you about it. At CCN17 I met project managers, artists, entrepreneurs, and people doing a variety of interesting things. It was inspirational to see the energy they brought to sharing their stories during the conversation.
My friend Jonathan (who introduced me to the CCN) goes with the intention of connecting with people as his primary goal. I'd not considered this approach before, and am intrigued by it.
2. Learning different ideas for solving problems and for growth.
Even if the conference isn't specifically targeted to your career, but peripherally related, it will likely have information you can benefit from. The sessions might provide topics and value that could be applied to your craft.
For example, at CCN17 the keynote speaker, Angus Nelson of Brain+Trust Partners, spoke on stepping into fear as a means of growth. I touched on the value of fear in my review of Grant Cardone's book the 10x Rule, also. I love this quote from his presentation: "Every fear is an invitation to that new reality" – I regularly use fear as a compass for growth. For example, last year during a huge company IT conference, my boss asked for speakers from our team. I was intimidated to present. I used that fear as an indicator that I needed to step out and do it. And I did, and it was great. And I'll present again this year, but with less fear and more excitement. Whatever scares you – DO THAT. Angus stressed this message in his keynote presentation.
Here are a few examples of other presentations that provided cross domain value:
David Fox presented "Brainstorming the Brainstorm" – breaking down some tried and true strategies to keep brainstorming sessions creative and productive.
Vanessa Darby presented "Put some muscle behind your hustle" – sharing "an in-depth look into the resources needed to sustain the mental and spiritual capacity of elevating oneself to the next level of their entrepreneurial career." This also translates to growing in your professional corporate career, since she focused on the "perseverance, preparation and a little moxie" needed to change the trajectory of their career from subordinate to superior."
Don Roy presented on Thought Leadership and the opportunities that abound for you to assert thought leadership. He shared that "becoming a thought leader might be the best professional development pursuit in which you can engage."
But learning and great takeaways aren't limited to what's presented by the speakers. You can learn from attendees you meet at the conference. By sharing your challenges with others during conversation, you'll get great suggestions and examples of how they've overcome the same obstacles.
So getting exposure to new ideas and learning new things are other great benefits of attending conferences.
3. Building relationships at a deeper level than you can online.
"Face to face changes everything" – this is a favorite quote of my friend Jonathan Nation, and it's true. You can connect with people online, but meeting someone face-to-face helps you connect at a deeper level. And you have the shared experience of the conference. Even if you maintain your relationship online after that, having met face-to-face can help the relationship feel more connected. I attended a live event several years ago at which I met some amazing people from all over the world, and we still maintain connections today. Many have gone on to do interesting and amazing things – build software companies, start blogs, grow in their corporate careers, and these people are wonderful resources I can reach out to when I need something, and I can support and help them as well. If I'd not attended that event, I likely would not have developed these relationships at the level I have. I know there are people I met at CCN17 I'll have more contact with, and I look forward to it.
So even though this wasn't a PM conference, I got immense value. This is one of my favorite benefits of attending conferences.
For another post on attending conferences that are not specifically targeted to Project Management, check out Bruce Harpham's great write up on attending the World Domination Summit in Portland, Oregon in 2015.
If you're shy and intimidated at the idea of attending conferences, let fear be your compass and go do it. If you could benefit from exposure to new ideas, new perspectives, and new relationships, those are great reasons to get out there. And it doesn't even have to be expensive.
If you've attended any great conferences that weren't specific to project management, yet you still got great value, I'd love to know. If there are any that you strongly recommend, post in the comments!